I like to play this game sometimes called, "Ummm. What?"
The way you play is you go about your daily life and when something odd catches your eye, you go, "Ummm. What?" take a picture, and then blog about it.
This question of "What?" is usually followed by, "What were they thinking?"
Play with me, will you?
This first picture is from a long time ago. It slowly caught my eye, as I was watching this Barbara Walters special, saw this part, let it keep going, realized what I saw, and then rewound it to take a picture. I give you "Barbara Walters and Miley Cyrus walking a bike with a big basket"
I picture all these well-paid writers sitting around a table, talking about how to lay out the special and someone goes, "I think we should have a shot where, out of nowhere, Barbara and Miley are walking a bike together," and then someone else goes, "Great. Let's go with that." Except let's not go with that. Because it's weird. You know that's not Miley's bike. And it's certainly not Barbara's. And then there's the fact that walking a bike is not a two person job. And why does the bike need to be there at all? Can't they just walk? Did Babs need a walker and this was there sly way of hiding it? I mean, seriously, what were they thinking? I really want to know.
The next picture isn't as clear as I wanted it to be. I should scan it, but my scanner is tucked away in my closet. But, even from the fuzzy picture here, I think it's clear that Office Depot is trying to move their merchandise with promises of free ham.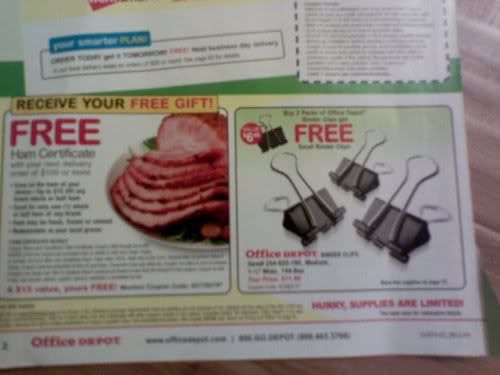 First of all...ham? Really? WHO EATS HAM? (Other than my nana.) And why is an office supply company trying to give away ham? Why not give away, I don't know...office supplies? I could use some free office supplies. I don't want your ham, whether it's free or not. And then there's the whole phrase "ham certificate" that's just disgusting. In this scenario, I picture an old, fat CEO sitting around a Board meeting going, "Give 'em ham! Everyone loves a free ham!" And also he spits when he talks.
This next pic is my favourite. This comes from tonight's episode of Wheel of Fortune. I don't watch Wheel of Fortune, but I do sometimes watch Jeopardy (I kicked ASS tonight and even got the final Jeopardy question when none of the contestants did). So I was rewinding past Wheel of Fortune (to get to Jeopardy) and I notice that there are 4 contestants at the wheel instead of 3. And one of the 4 was a midget. I'm not gonna lie, my first thought was that maybe they let one team be a regular sized guy and the midget because the midget wouldn't count as a full person. I may go to hell for that, but when you're rewinding and there is no sound, your brain only has so many places to go. Plus I'm kind of mean. Turns out the midget couldn't reach the wheel to spin it, so he brought along his friend as the designated spinner.
I'm wondering here if that was
really
the best they could do. Isn't it a little degrading that the poor guy had to have a partner? Like, couldn't he just walk up to the wheel to spin? Or maybe they could hook up some sort of device? There had to be better options.
This last one is more of a "Really?" than a "What were they thinking." So, Meat Loaf is a guest on tonight's House. Here's his credit:
Meat Loaf ADAY? Since when did Meat Loaf start using his last name? Was he trying to sound more legit? Dude. You're name is Meat Loaf. There is no legit for you.