Ok, so I have a post abrewin' in my head about this whole Maine/gay marriage thing. I have some things I want to say, but I want to make sure to take the time that it deserves to write it well and write it thoughtfully.
In the meantime, I wanted to share something I came across today.
I was looking around for something on CalOSHA's website, CalOSHA being California's Occupational Safety and Health Administration, and got to
this
page: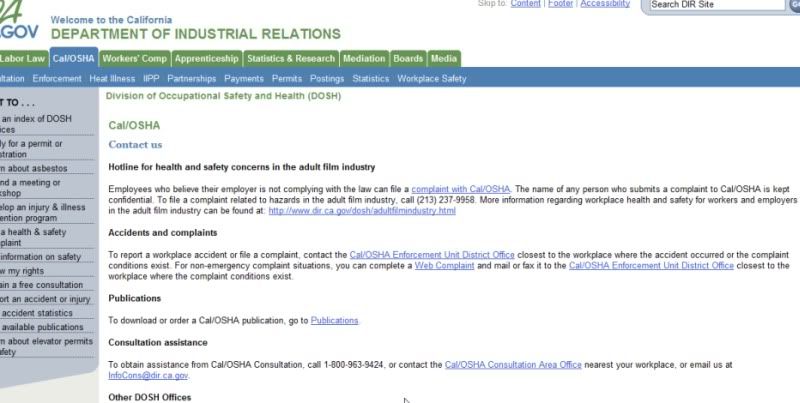 To me, the page breakdown is basically:
1. Click here if you're working in porn and you have a complaint.
2. Click here if you have a complaint about any of the other hundreds of thousands of types of jobs that we have here in sunny California.
I've heard that porn is huge - but is it the biggest industry in all of California? Or do they just get that many complaints that it needs to take up, like, 50% of the complaint page? And really, if you're the type to complain to OSHA, is porn really for you? Because I don't think I've ever heard rumours about porn being a safe and healthy job to have.
First Maine, and now CalOSHA - today has left me really confused.